In 2018, the International Maritime Organization (IMO) took a historic step, setting the maritime world on an ambitious path to phase out CO2 emissions and reshape the future of marine propulsion. This decisive action, reminiscent of the transformative era when seafaring transitioned from sail to steam, has set in motion a quest for zero-emission alternatives that rival the power and economic feasibility of heavy fuel oil (HFO).
HFO has long been the backbone of maritime energy, providing a powerful and cost-effective solution. However, the industry's commitment to reducing its carbon footprint has brought about explorations into green fuels such as methanol and ammonia. These fuels, while less potent than HFO, offer a significant reduction in emissions and are being eyed as the keystones of a more sustainable shipping industry. Yet, these alternatives raise complex questions, as we find ourselves at the crux of what could be termed the 'green energy gap'.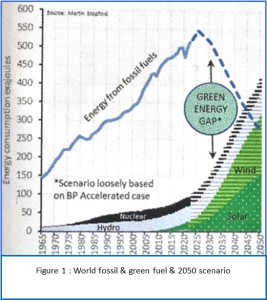 The above graph of Dr. Martin Stopford starkly illustrates this predicament: fossil fuels have consistently met global energy demands, but as we look ahead, the anticipated supply of green energy falls short. This raises a red flag for shipping companies that might rely on a steady supply of green fuels – a supply that may not materialize in time to meet demands.
Further complicating this scenario is the substantial investment needed for the production, storage, and distribution of these new fuels—investments that many scientists agree will far exceed the costs associated with fossil fuels. Such economic challenges cannot be overlooked, particularly when considering the wider societal context and the pressing need to adhere to the United Nations' Sustainable Development Goals, which remain unmet.
Moreover, there are environmental and logistical issues not fully addressed by current discourse. The upscaling of raw materials mining for electric vehicles and renewable energy installations will likely lead to significant ecological and environmental harm. This issue is compounded by the current lack of sustainable solutions for recycling materials like wind turbine blades, creating a sustainability gap that the industry must acknowledge and address.
The Mastermind Group understands that this transition is not just a technological shift but a socioeconomic one. The potential economic impact of transitioning to more expensive fuels could disproportionately affect the less wealthy, widening the gap between the rich and the poor and undermining societal cohesion.
In light of these considerations, the Mastermind Group believes that a multi-faceted approach is essential. It is imperative to establish an extensive framework for cross-sectoral research that unites the shipping industry, academia, and regulatory bodies. This collaborative effort is vital to developing globally implementable solutions that are economically viable, environmentally sustainable, and socially equitable.
In a tangible demonstration of our commitment to these values, the Mastermind Group has concluded a shipbuilding project for outstanding environmentally friendly state-of-the-art 43,000 DWT General Cargo-Bulkers. These vessels embody our pursuit of innovation and sustainability, boasting a fuel consumption rate that is about 40% less than traditional vessels at equivalent speeds.
Equipped with a permanent magnet shaft generator, a high-efficiency propeller, and a dual-fuel option with methanol (MeOH), these ships are not only designed for today's needs but are also future-ready, poised to incorporate emerging technologies such as shore power connectivity and intelligent battery systems. These forward-thinking capabilities ensure that the vessels will significantly contribute to the reduction of our environmental impact while maintaining our competitive edge.
The delivery of these advanced vessels, scheduled to commence in October 2025, marks a significant milestone for our Mastermind Group and the maritime industry at large. We stand ready to embrace this new era of maritime operations, ensuring that environmental responsibility and economic performance sail in tandem towards a greener horizon.
Mastermind invites our partners, stakeholders, and the global community to join us as we navigate toward a sustainable future, upholding our commitment to innovation, environmental stewardship, and the prosperity of the shipping industry. Together, we will steer the course for a cleaner, more efficient, and more equitable maritime world aiming not leaving people behind.