Ocean Technologies Group (OTG), the maritime e-learning company formed by the merger of Videotel, Seagull, COEX, Marine Training Services (MTS), Marlins and Tero Marine, has combined all its offerings on a single platform, under the new company name, Ocean Technologies Group.
On 27 March 2023, Elaine Forrester, the Tier 1 Customer Success Leader of OTG and Joannah Magbanua, the OTG Philippines Regional Team Manager, visited the Mastermind / Lydiamar Manila team.
One part of MSM's quality service is the attention given to constant training to develop highly skilled personnel and seafarers. The latest technology on deck, bridge and engine room, and changes in maritime rules and regulations is being continuously followed and evaluated. MSM signed a contract with OTG to supplement the training programs.
In the OTG team's visit, Mrs Elaine Forrester explained in depth the Online Learning Platform (OLP), which is available on any mobile device using internet. OLP is a blended approach to content, including e-learning, videos for group viewing, interactivity in assessments and exercises to evaluate the application of knowledge.
The seafarer logs in to OTG website, where training requirements are set by MSM Training Director, Mr. Nikolas Adami. The trainees are scheduled for certain courses, based on rank and vessel. After completing the course an assessment is mandatory, which is then linked to crewmembers' personal records in the company.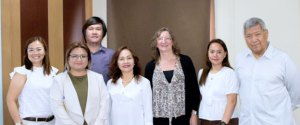 Marites Domingo (LMM Accounts), Joannah Magbanua (OTG-Manila), Alex Nunez (IT-LMM), Rodelita Homecillo (Pres-LMM), Elaine Forrester (OTG-Main), Jenny Delgado (LMM-MSM Crewing), Capt. Antonio Palenzuela (MSM Trainer)