On the 13th September 2010 I had the privilege of embarking on a journey to Japan, that was as enlightening as it was fascinating. As the fortunate partner of the Godmother of MV UBC Stockholm, Mrs Christina Myrianthous, we travelled to Tokyo via Vienna and eventually ended up at the Beppu Spa Resort close to the Saiki shipyard.
We flew out there together with Capt. E-H. Adami and his wife Fannie and Mr Marios Antoniou, Director of MSM, and upon arrival in Beppu we hardly had the time to catch our breath before we were treated to a wonderful and very tasty welcome dinner at the hotel. During the dinner the Godmother had the chance to practice her skills in cutting the rope, and although she must have felt the pressure of succeeding I think she hid her tension very well.
Next morning we had to wake up quite early to catch the ceremony at 9am. We arrived at Saiki shipyard where the reception was both impressive and surprising. The shipyard itself was well organised and it was obvious that even though launchings occur on a regular basis, each one is special and unique. The local community also took the event seriously and we were welcomed by hundreds of school children, and for a while the Godmother was treated like a true celebrity.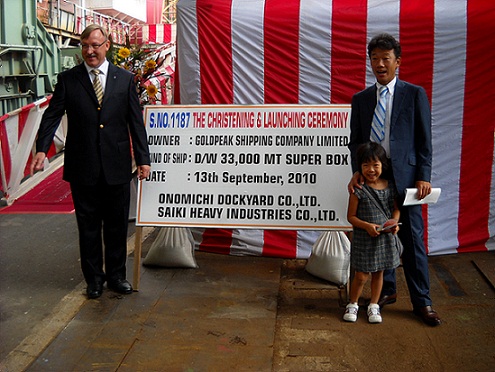 Needless to say that true to Japanese timely fashion, the whole event ran exactly to schedule like a well-oiled machine. The vessel loomed high above us and looked enormous sitting on its rails completely out of the water. When the time came to cut the rope, Ms. Christina Myrianthous stepped forward accepting the symbolic axe and within seconds the champagne bottle broke and M/V UBC Stockholm was named. The image of that huge and beautiful ship rolling into the ocean for the very first time and the noise it generated will forever be fresh in my mind. It was without a doubt a monumental experience.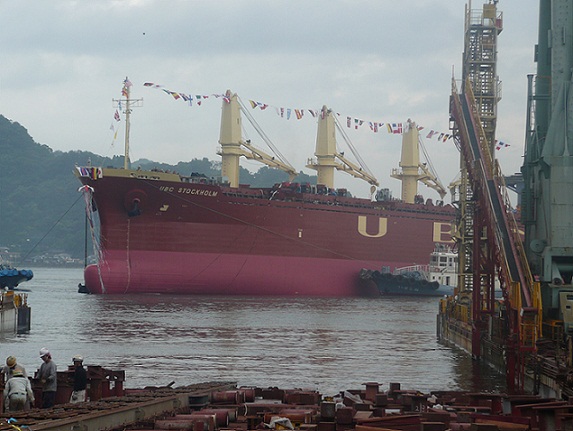 In our time in Japan we were fortunate enough to meet many fascinating people. We were humbled by the depth of their culture and the symbolism all around us. I would like to take this opportunity to offer my deep gratitude to Capt. Adami for making all this possible and for giving us these great memories.